North Portland's Red House Furthers Tensions While Gaining Internet Attention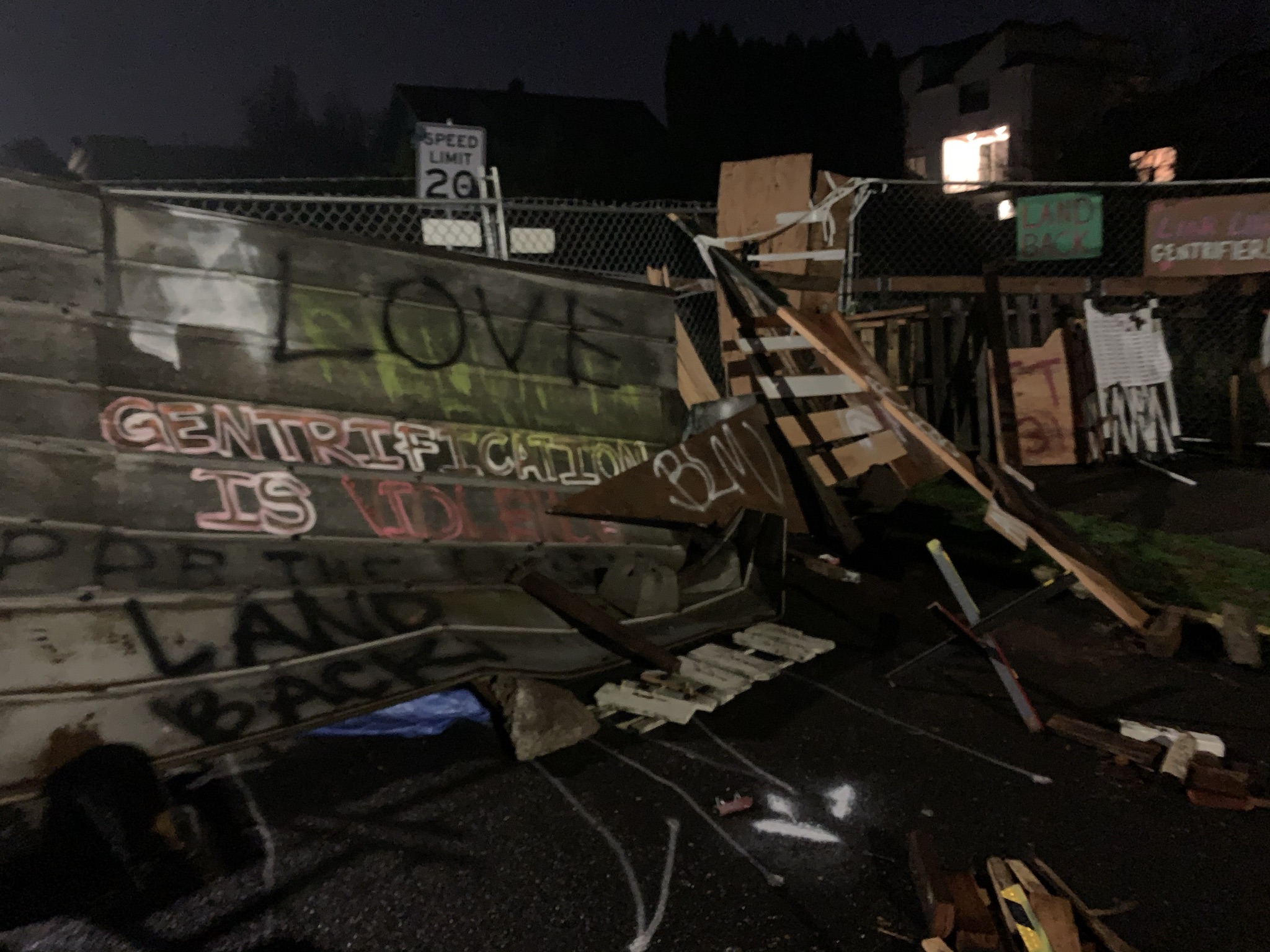 (Photograph baricade on N Mississippi with "Gentrification is Violence" graffiti on surface) Photo Credit - Julianna Robidoux
By Dory Nafshun

Dec 10, 2020

An unexpected rift between the City of Portland, the Portland Police Bureau, and housing activists continues into this week, with no resolution found as Portland residents continue to assemble on N. Mississippi Avenue to physically protect a historic Portland home from a forced foreclosure.

Beginning in early Dec. 2020, the "Red House on Mississippi" became the epicenter of Portland protests this winter, creating a movement with over 100 people physically rallying to defend the Kinneys, an Afro-Indigenous family's home from a city mandated foreclosure. This comes in the face of the Portland Police Bureau attempting to forcibly reclaim the house on N. Mississippi Ave. to distribute to its current owner, the Urban Housing Development LLC, a construction company in Portland.

The impact of social media during the COVID-19 lockdown in Portland, Oregon has sustained the standoff between Portland residents gathering to defend the house from seizure by the City of Portland and given the Red House national notoriety. A tweet with footage of Portland activists creating an effective physical shield against Portland Police delivering an eviction notice has over 175,000 likes and 45,000 retweets (and counting) in just one day of being posted. The caption by user @benjancewicz describes the situation on N. Mississippi Ave on Dec. 8, 2020 as "Portland police attempt to serve an eviction notice during a pandemic. Residents push them back".

The Kinney family, who has owned the house since the 1950s, cites a predatory loan as the reason behind the foreclosure. They, and many of the protestors and housing rights advocates, believe a violent and sudden foreclosure during a global pandemic with little government financial support is unfair and disproportionately targets working-class and middle-class families. Compounding that, the Kinney family alleges a property next door on N. Mississippi Ave. is made up of multi-million dollar apartment complexes that are contributing to skyrocketing housing costs in the inner Portland area.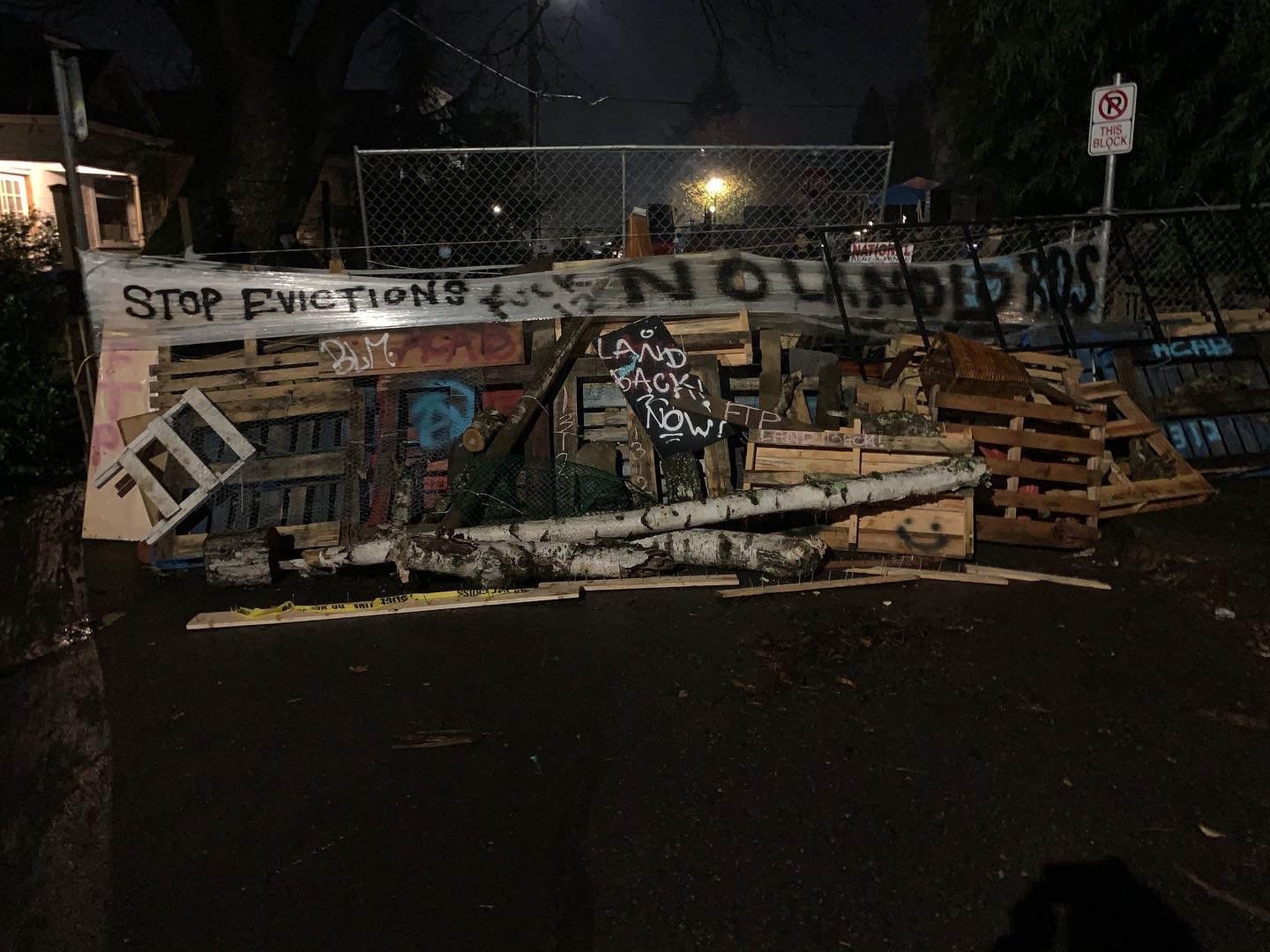 The Kinneys had been seeking pro-Bono representation to reverse the eviction and reclaim their house and property – until Portland Police arrived to forcibly evict them from the Red House.
According to The Oregonian, protesters against the eviction of the Kinney family have been staying on the property for as long as three months, but the tensions between police and protesters have only recently gained city-wide and national attention.
As of Dec. 10, 2020, the Red House is an evolving autonomous zone where violence between housing justice advocates and Portland Police, delivering a forced eviction during a global recession and pandemic, continues.
Redhouseonmississippi.com
, the Kinney's personal website containing daily updates assessing the situation, claims riot police destroyed the protesters' barricade on N. Mississippi Ave., arresting two people while entering and destroying the Red House itself. According to the Kinneys, "the story is still developing."
Redhouseonmississippi.com
, the Kinney's personal website containing daily updates assessing the situation, claims riot police destroyed the protesters' barricade on N. Mississippi Ave., arresting two people while entering and destroying the Red House itself. According to the Kinneys, "the story is still developing."
To donate to the Kinneys who are at risk of losing their home:
[Leighton, M. "Lost by Threat and Deceit". Democracy Now. Nov 03, 2020.]
[Bernstein, M., Perry, D. "Portland's red house occupation launched spontaneously, but protesters barricade for long haul". The Oregonian. Dec 09, 2020.]